Welcome to LaBelle Fast, no fuss expert self-publishing
Print Book Publishing
Our STANDARD SERVICE is for authors who have a fully proof-read manuscript with cover artwork (or require us to make a standard cover design). We offer you a full UK, USA and Internet bookshop distribution package including, an ISBN, an initial copy, statutory copies sent to the British Library, typesetting and much much more.
Go on. Find out more.
Publishing your book with us is simple and straightforward.We always take care to ensure you are comfortable at every stage of the process.There are NO sudden or hidden charges. This is YOUR book. You receive 100% of all profits from distribution.
You set your sales price and YOU are in control of how and when your book is made available.Step 1. You create your manuscript. Step 2. You select from our packages or services.Step 3. Your book is published to Amazon.Step 4. Your book is available worldwide.
Whether a paperback novel, a hardback children's book, an ebook or anything else, our team can help transform your book into a professional finished product.
• Professional publishing, editing and marketing services. We help you make your book the best it can be and help you reach your audience.
• Full ownership. We don't own your copyright – you do!
• Experience, advice and dedication.
• A personal service.
Contact us today and lets start publishing your book.
Although we prefer electronic submission of books (ideally as a Word file attached to an email) you can also post us your book on a disc or USB memory stick. Microsoft Word is the preferred format, but we can normally work with other formats.
Format
We will format your book, usually in Times New Roman, with page numbers centered at the bottom of the page and all paragraphs (except the first in a chapter) being indented. No need to worry about formatting your book before sending it to us, let us do that for you. If there's a problem, we'll let you know. We believe in keeping authors involved in every stage of the process.
An ISBN is an International Standard Book Number. It is a unique 10-13 digit number that uniquely identifies books.
An ISBN is in essence a product number used by publishers, booksellers and libraries for ordering, listing and stock books.A unique ISBN is assigned to each edition and variation of a book, for example an ebook, a paperback, or hardcover would each have a different ISBN.
There is no legal requirement for anyone to have an ISBN and it provides no legal or copyright protection. It is a product number.
If you want to sell your publications through major book chains, or Internet booksellers, they will in most cases need you to have an ISBN to assist their internal processing and ordering systems.In the case of major online retailers as Amazon, ISBNs are not always necessary. You should therefore check if you only intend to sell through that single channel.The ISBN also provides access to bibliographic databases, which are organised using ISBN as references. These databases are used by the book industry and libraries to provide information to customers. The ISBN therefore provides access to additional tools that could help sales of your publication.
You can get an ISBN from your publisher or a publishing agency
We sell ISBN on this website at a very competitive price. This is because as a publishing company we get economies of scale and we believe in passing on those economies to our customers.
Only publisher or those who are self*publishers are eligible to purchase ISBNs.
However as you can not purchase these identifying bar codes individually, just getting a single one for your book, will set you back £126.
Nielson UK Agency.
There is a different agency in every country, so if you are not based in the UK a quick search online will reveal your local agency.
Our ISBNs are sold at the affordable price of £19.99.
Please note that this means La Belle Au Bois Dormant Publishing will be listed as the official publisher for your book, however besides that we will hold no rights over your book.
Use this unique identifier on Amazon, Nook, Smashwords and in every other retail.
Although a free Amazon ASIN might seem tempting, you are unable to use this anywhere else. Maximize your revenue by selling on ALL the available POD and ebook platforms.
Right now, you're considering publishing a book on Kindle. Maybe you've already published and not had the success you had hoped for?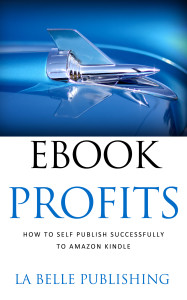 There's no doubt that Kindle has revolutionised publishing and opened up huge markets to new writers. But like everything else on-line the market is competitive and getting attention to your books can, for some, be a difficult task. Not mastering this will ultimately results in failure and you don't want that. And we don't want that for you either! That's why we've written this useful report (it's more of a mini-book at 6000+ words). It will reveal to you important strategies that you will need to apply as a self-published author. Download now by adding your details in the form on the right. Download now by adding your details in the form on the right.

Learn how to sell more books on Kindle!
At LaBelle, we believe in going the extra mile, so if there is a service that you would like that we don't seem to be offering, we are more than happy to go the extra mile and see if we can outsource that service for you!
Example of Promotional Book Videos
Heard enough? – Let's start working.
Share your words with the world!